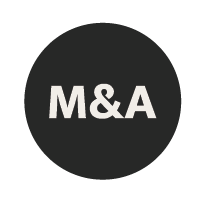 We regularly assist clients in the acquisition or disposal of business undertakings in Namibia.
We provide a service that goes further than the mere drafting of contracts. We assists clients in understanding the transaction, and we further advice on all aspects of commercial transactions, including structure, risk, tax and financing relating to the transaction.
In its 2022 Global Edition, the leading international publication, Chambers and Partners noted that we "regularly advises on M&A transactions and offers notable experience in tax and business restructurings.
When acquiring a business in Namibia, it is important to note that the Namibian Competition Act requires that where a merger of any Namibian entity or business is proposed, each of the affected parties must notify the Namibian Competition Commission of the proposed transaction. In terms of section 42 of the Namibian Competition Act a merger occurs when you directly or indirectly acquire (or establish direct or indirect control over) the whole or part of the business of another undertaking. This definition is so broad that any acquisition of any Namibian entity may be deemed to be a merger.
We have represented various clients in dealings with the Namibian Competition Commission and on compliance with the provisions of the Namibian Competition Act.
We partner with client to ensure that their Namibian transactions are successfully implemented.