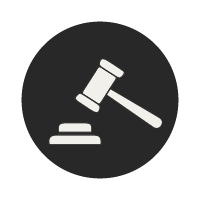 Legal disputes can be resolved through various mechanisms, and these include mediation, arbitration, and litigation.
At Cronjé Inc we understand that litigation is adversarial, costly, and something most of our clients would like to avoid altogether. Accordingly, we work hard to come up with creative and strategic solutions early in the life of a dispute so that the need to litigate is obviated. If, however, it becomes incumbent on a client to prosecute a dispute in a court, we ensure our client is properly apprised of their rights and obligations. We are well versed in the Rules of Court and exceptionally knowledgeable in our practice areas – our clients can depend on us to resolve a broad range of legal disputes.
We frequently litigate through instructed counsel, guaranteeing that our client's interests are taken care of by the most authoritative of experts.
Our team has experience advising clients on:
Commercial Litigation
Debt Recovery & Collections
Instituting, Defending & Opposing Action and Motion Proceedings
Urgent Applications
Contractual Disputes
Lessor and Lessee Disputes
Liquidations, Sequestrations & Judicial Management Applications
(Minority) Shareholder Protection Disputes