Establish a business in Namibia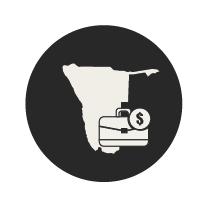 A primary focus of our firm is to act as the first point of call for investors who intend to commence their operations in Namibia. Cronjé Secretarial Services (Pty) Ltd was established in order to have shelf companies readily available for local and foreign investors who wish to operate in Namibia.
Our secretarial services entity provides the following services:
Outsourced Secretarial Function
We provide a full service outsourced secretarial function to clients. The function of the Company Secretary is outsourced to us by clients.
We provide a broad range of fiduciary services to selected foreign clients. This service includes acting as independent trustee and as non-executive director as well as taking the required steps to ensure that the active management of an entity is in Namibia.
Submission of Namibian Annual Duty Returns.
We provide a service in terms whereof we submit annual returns as well as submit the payment of annual duties on behalf of clients.
* In terms of Section 181 of the Namibia Companies Act every Namibian Company (other than a non-profit association) is required to submit to the Registrar of Companies, an Annual Return stating certain information relating the Namibian Company.
* Section 182 (1) of the Namibian Companies Act further requires that each Namibian Company is to, no later than one month after its financial year end, pay Namibian Annual Duty.
Acting as Independent Namibian Director or Trustee
A number of clients require the services of an independent Namibian director or trustee. In certain instances, and provided that clients are willing to subscribe to corporate governance good practices, we offer a service to act as independent Namibian director or trustee. This services adds considerable value to South African clients who want to ensure that their Namibian operations are not deemed to be a controlled foreign company in terms of the South African Income Tax Act.
We have advised a number of clients on the process to follow regarding the appointment and removal of directors as well as the implementation of policies relating to directors. These include director rotation policies in line with Namibian Corporate Governance best practices.
We have recently advised a number of clients on the implementation of the new Namibian Corporate Governance Code known as the Namcode.
Amendments to the Articles of Association
We have assisted clients in the amendment of the Articles of Association of Namibian Companies. The Memorandum and Articles of Association of Namibian Companies are normally prepared in a standard format, which in certain circumstances do not necessarily suit the needs of the specific company. In such instances we assist in the drafting the suitable amendments to the Articles of Association in order to comply with the requirements of the specific company.
Amending the Capital Structure of Namibian Companies
We have assisted a number of clients with the allotment and issue of shares for their Namibian Companies. This includes the preparation of all relevant documents and notices as well as submission of the required returns of the allotments with the Namibian Registrar of Companies.
In certain instances, clients require an alteration to the capital structure of a company in order to meet their specific needs. We have assisted clients in the amending their share structure in order to issue additional shares or to issue different classes of shares. This is normally associated with the allocation of specific shares to a shareholder group or financier or with the reduction in the number of issued shares in a specific class.
We further provide a service in terms whereof we assist clients in the holding meetings required by the Namibian Companies Act. This service includes assistance with the preparation of the Agenda, circulation of notices for meetings as well as advise on practical manners to deal with complex situations at meetings.
A number of clients who are in the process of establishing their Namibian offices, further make use of our facilities in order to hold meetings.
Keeping of Statutory Records
We currently assist a number of clients in the maintenance their statutory records. This includes updating the Namibian Company Registrar relating to the appointment of directors and members.